Journal Entry:
Thu Jan 27, 2011, 11:12 AM
---
Thank you
for all the



and thank you so kindly for the amazing support

Please excuse the fact I do not comment each work I visit or fave because dA drives me crazy with Spam notifications...

---

I wish you the same pleasure I had discovering these beautiful works

FEATURES
:thumb188905913:
---
---
:thumb194982522:
---
:thumb193312540:
---
:thumb187076701:
:thumb193537983:
---
:thumb193168557: :thumb191365047:
---
---
---
:thumb194973057:
---
:thumb185100649:
---
DONATION POOL

I just started a donation pool that will give points or Premium Memberships for contests and to promote and support deviants that help to support community throughout deviantART like
daGrants
Anyone can donate and I will be graceful you to participate in this. If you give more than 100 points, you will be featured in my journal.
All given points will be used for contests. I will let you know about balance between the received points and the given points.
I also will feature each contest with some

or Member submissions engaged inside. Thank you for your help.


Donators for 100

and more








---
CONTESTS
There are many contests around and some are linked here
---
GALLERY NEWS
I cleaned up my gallery on some old works which didn't have anymore nothing to do with my work and doesn't represent me anymore. In the mean time, my system shut down on the last Saturday and I spent three days to save my folders and files, re-install the system/softwares/drivers... After have lost two weeks ago the content of an external hard disk with all my photographies from 2005 to 2009 including my manips too, this last unluck let me sad. I do not know if I will can pay someone to try to rescue them, but for the moment my external hard drive is here on my desk, and I do not want to decide anything about it. So I always have my 2010 photographies and of course 2011, these files were saved on another external hard disk. I do not wish the same to anyone, even to my worst enemy!
---
MACRO DROPS TUTORIAL
(French & English)
---
SELL
I sell high quality print on personnal demand by Email / note
---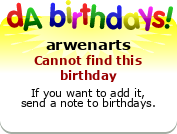 ---
Listening to: Ayo
Reading: I. Asimov Foundation Cycle for the umptheenth time
Watching: Art
Drinking: ayurvedic tea & honey