Journal Entry:
Mon Feb 7, 2011, 11:16 PM
---
Thank you
for all the



and thank you so kindly for the amazing support

Please excuse the fact I do not comment each work I visit or fave because dA drives me crazy with Spam notifications...

---

Today is my dA Birthday!
Two years, I'm so young

730 days ago I decided to join and never regret it from this day.

These two years were full of emotions and of beautiful encounters for me.
I could practice my art with a lot of encouragements and beautiful supports.
I would never success this step without you. Thank you so much for these beautiful moments, for the three DDs I had, and please,
I express so much my gratefulness to all of you, my watchers and my friends, all visitors and wonderful groups where I am a member.

Thank you also for my Admin Groups friends for your so kind welcoming and for trusting me.


I would like this story never stop, I love to be here with you all, help, encourage, share and show, discover new stuff became a very important part of my life from two years. Thank you so much again.

---
Some features for the occasion
each one of them is good for showing beautiful works

:thumb196057878:
---
DONATION POOL

I just started a donation pool that will give points or Premium Memberships for contests and to promote and support deviants that help to support community throughout deviantART like
daGrants
DONATE

Donators for 100

and more











Thank you all for your help


---
MACRO DROPS TUTORIAL
French & English
---
SELL
I sell high quality print on personnal demand by Email / note
---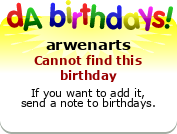 ---
Mood: Happy
Listening to: Supertramp
Reading: Isaac Asimov - Robots Cycle
Watching: Art
Drinking: Ayurvedic tea