Journal Entry:
Thu Feb 10, 2011, 6:10 AM
---
Thank you
for all the



and thank you so kindly for the amazing support

Please excuse the fact I do not comment each work I visit or fave because dA drives me crazy with Spam notifications...

♥ ♥ ♥
---

THANK YOU!

At first,
THANK YOU
SO MUCH!!! For all your kindness on my dA Birthday's entry, I am grateful and glad and cakes were so appreciated too.

♥ ♥ ♥
After my last poll,
dralik
won the highlight this week. As a smart suggestion from
Zulma-san
I also choose another one in addition,
dnwvictor
So there will be two highlights each time, your and mine. Hope it will satisfy everyone.

---
HIGHLIGHTS
♥ ♥ ♥

Visit her gallery


Visit his gallery

---
FEATURES
♥ ♥ ♥
:thumb196823856:
:thumb196673302: :thumb165118911:
:thumb117817567:
:thumb196178231:
:thumb195966479: :thumb185823471:
:thumb196770617:
---
DONATION POOL
♥ ♥ ♥

I just started a donation pool that will give points or Premium Memberships for contests and to promote and support deviants that help to support community throughout deviantART like
daGrants
DONATE

Donators for 100

and more












Thank you all for your help


---
MACRO DROPS TUTORIAL
♥ ♥ ♥
French & English
---
SELL
♥ ♥ ♥
I sell high quality print on personnal demand by Email / note
---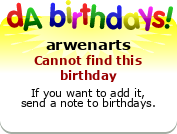 ---
Listening to: Supertramp
Reading: Isaac Asimov - Robots Cycle
Watching: Art
Drinking: Ayurvedic tea